Introduction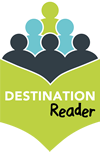 Destination Reader is a new approach to teaching reading in KS2. It involves daily sessions incorporating whole class modelling prior to the children applying these skills through partner work and independent reading.
Children deepen their understanding of the texts they read through the systematic use of a series of strategies and language stems.
Product details
We continue to support Destination Reader schools through an annual subscription which ensures access to termly forums for sharing practice, updated materials and curriculum resources. 
The price is per school.
Testimonials
"Destination Reader has been a revelation. Our teachers feel clear, confident and inspired to teach reading. Our children say that they feel positive, motivated and not judged on their learning journey. The programme has benefits beyond reading. Its skills and the learning behaviours it is founded upon shine through elsewhere in the curriculum. If you want to raise attainment, have an approach to reading assessment that is fit for purpose, and create a rich culture of reading for pleasure – this is your answer!"
Debi Cookhorn, Assistant Headteacher, Millfields School
How to buy this product
This product is not suitable to be purchased by individuals.
To purchase this product login, or register as a school/organisation
If you are a credit card customer you will need to apply to purchase on behalf of a school/organisation.